Are you planning your next holidays in this January weather? Il ne fait pas un temps à mettre un chat dehors! (it is not the kind of weather to put a cat out = it's miserable!)
Forget Milton Keynes and discover France's unusual sea side resort created in the 1960s: La Grande Motte.
It might have looked like something out of a science fiction film when it was first built, but over the years trees have grown and it has become a popular holiday destination among working class families.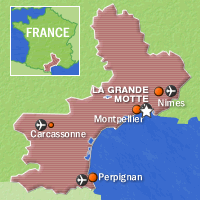 What is unusual is that its buildings are in the shape of pyramids. Its construction started in 1965 in what was a swampy area (un marais). It isn't difficult to imagine the controversy when construction started. Not only was the architecture very unusual, but it was part of a mouvement trying to democratise mass tourism instead of palaces. It is difficult to imagine something more different to the Promenade des Anglais ! A great number of flats have a sea view, and its beach is reputed to be overcrowded, but the water is warm and there are hundreds of seafront restaurants to choose from!
If you are planning your holidays, here is some useful vocabulary:
a booking – une réservation
a booking number – un numéro de réservation
une chambre simple – a single room
une chambre double – a double room
des lits jumeaux – twin beds
le petit déjeuner compris – breakfast included
le wifi (pronounce wee-fee if you want to be understood!) – wifi
la date d'arrivée – arrival date
la date de départ – departure date
If you would like to learn French contact us to discover our dedicated tutors in Bath and in Bristol – we are opening a beginners' class in Bath and Bristol.